Who says kids get to have 
all 
the fun? The WMPL now offers a Summer Reading Challenge For the Grownups in Beanstack! If you don't have a Beanstack account yet–sign up–it's easy, free, and has an app for on the go logging.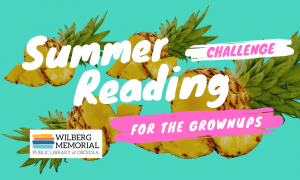 Once you've registered for the challenge, (which begins on Saturday, June 5th) log the books you read through July 31st. Anyone who reads at least 3 books is automatically entered into the Grand Prize Drawings. There's nothing to lose.
Reading is essential. Among it's many cognitive benefits, reading can actually lower your blood pressure-and let's face it-after the last year and half, we could all use that!